Today' s popular shopping centers had been originally built the Ottoman Empire several centuries ago in the form of bedestens that survived up to our time and that are still in high use.
Bedesten are long, rectangular shaped buildings, hosting dozens of shops inside for offering a single-center, comfortable shopping for customers.
Located on the historic Silk Road, Gaziantep was always a center of dynamic trade and business, and bedestens certainly had and still has a significant place in the city's economic life. Zincirli Bedesten, Hüseyin Pasha Bedesten and, next to it, the Kemikli Bedesten are must-see historic buildings for everyone who happen to visit Gaziantep. In the past, prayers and supplications were made in the morning before a bedesten is opened to shopping.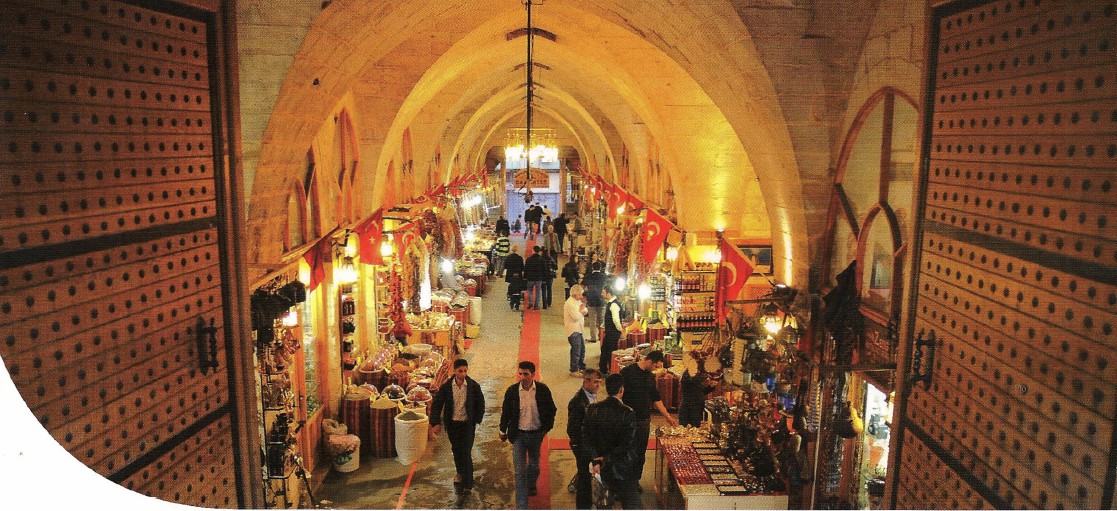 Here is one of the supplication made: "o our Lord! Make our day bright and our bazaar frequented by customers and our income abundant. Save us from tainting our income with the deeds You forbade, from selling goods fraudulently, from being lazy, from deceiving others, from being deceived by them, from tricks, income tainted with interests, from conforming to Satan and our carnal selves, from the evil deeds of enemies, from breaching the rights of other people, from tyrannizing and from being tyrannized. Do not make us need the help of despicable people. Do not make us face troubles in making our subsistence. Do not make us go astray in the face of your abundant benefactions. And do not make us feel embittered with reduced bliss. Heal the diseased people among us and give remedies to the troubled among us and help the indebted among us repay their debts. Protect us from accidents and disasters. O our Lord, make us contented and generous people who give thanks to Your bounties and who forbear when needed. Amen"
Zincirli Bedesten, built in the 18th century with the sponsorship of Hüseyin Pasha, is known to the public as the Black Step Bedesten It houses 80 shops and has five portals. The four-line inscription on the southern portal was authored by Kusiri. Kemikli (Boned) Bedesten was built in 1865 under the sponsorship of Mufti Hacı Osman Efendi.
The public tended to call it Kemikli (boned) because several bones were discovered in the excavated area during its construction. Its proper name is Mecidiye Bedesten. it houses 72 shops.